Ear Micro Suctioning
Ear wax removal using microsuction to gently remove ear wax and debris.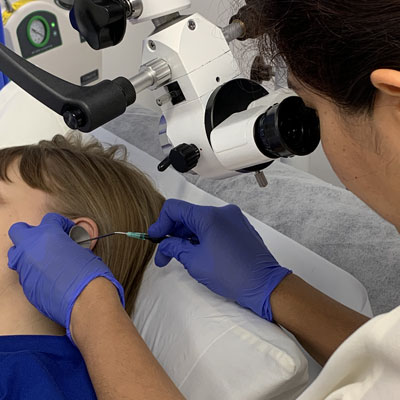 Do you suffer from?
Loss of hearing?
Blocked ears?
Itchy ears?
Discharging ears?
Ear ringing?
Why Ear micro suctioning?
Loss of hearing, blocked ears, itchy or discharging ears can be very uncomfortable. They are usually due to Ear wax, ear infections or foreign bodies in the Ear. Micro suctioning is an examination and suctioning of ear wax and debris using a high powered microscope and equipment to treat the above problems without the discomfort of using ear syringing and water in the ear.
This costly equipment is usually only available at some hospitals and specialist ENT (Ear Nose & throat) Centres. Our doctors are trained to provide this service to you for a fraction of the cost.
You may be asked to use ear wax drops or oil for a few days prior to help soften the ear wax.
How is Ear micro suctioning performed?
You will be asked to lie on the examination couch so we can position your Ear canal. The doctor will place a small metal funnel in your ear to allow an easier view with the high powered microscope and to access the ear canal. The doctor will then use a fine suction device and possibly fine instruments to dislodge and clear wax and debris through the funnel.
Ear suctioning can be noisy, uncomfortable but NOT painful. It can cause transient dizziness. Please let us know if you are uncomfortable at any stage.
Questions about Ear Micro Suctioning
Fees apply, please contact reception for further information.

Ear Micro Suctioning | Forrest Road Medical Centre | (08) 9402 1922